Let me begin by saying I hate Halloween. I didn't used to mind it until I moved to Los Angeles and discovered the horrid traffic that Halloween in this city begets. It took me an hour and 45 minutes to get home last night. It usually takes around an hour. On Halloween, it has historically taken me 2-2 1/2 hours to get home, so I guess I should count myself lucky. The fact that the Lakers had their opening game last night and I had to drive right past the Staples Center didn't help matters. Here is a photo from my cell phone from the drive home. If it seems a little glary, that's because of all the BRAKE LIGHTS.
Also, welcome to
Wally Wednesday
. I woke up early and well-rested this morning, and got some cuddle time in with the cutest dog in the world. This is what he looked like when I got out of bed:
In response to the blog yesterday, my friend, Jeff asked to see photos of the famed "Seven to Midnight." I couldn't help but oblige. I had to dig through boxes in my garage last night to find these:
And of course, the band BEFORE the band - Jason LeMaster and I in
"Alias."
(Before there actually WAS a band with that name...) Yes, we were the only two in the band, and no - we couldn't play our instruments. But clearly, we "rocked" 1985. Notice my sweet plether pants.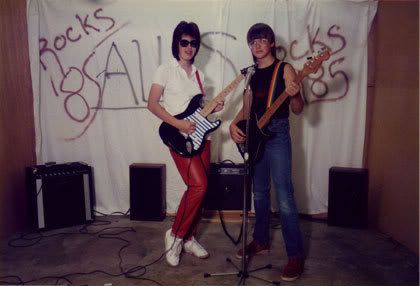 John Leguizamo
has written a new book entitled
"Pimps, Hos, Playa Hatas, and All the Rest of my Hollywood Friends."
I'm not a big Leguizamo fan, but after listening to him on KROQ this morning, I'm really looking forward to this book wherin he names names (apparently Harrison Ford reeks of weed, and surprise - Steven Segal is a jackass).
Finally, my flashback song for the day: "(I Just) Died In Your Arms" by
Cutting Crew
. I LOVED this song. I went and saw them in concert right after they broke at the old "Starry Night" in Portland. They played every song on their album, some songs they had yet to record, and then had to resort to playing "I Just Died In Your Arms" again because the crowd was hot and they had nothing left to play. The old Cutting Crew is no longer still together, but check out lead singer Nick Van Eede's new
project
, formerly Grinning Souls, now renamed as Cutting Crew again. His new album is actually pretty good.