It was about 90 degrees in Pasadena Saturday and yesterday. Hello, Thanksgiving in Los Angeles! The up side of nice hot, clear days in L.A. is this view from my bedroom window:
I came home yesterday to find my neighbor out playing with his dogs. I found it a little strange, because up until yesterday, he only owned a dog (singular). I
zeroed in on the new addition and realized it was an English Bulldog PUPPY! So cute. He doesn't have a name as of yet, but he's a character. So sweet and well behaved for a puppy with big paws and lots of extra fur. Lift him up and he feels like a bowling ball. I can't wait until he gets even bigger.
I just heard this morning about a new project David E. Kelley is undertaking - he'll be overseeing the script and producing a feature based on the life of hockey great Gordie Howe (Mr. Hockey).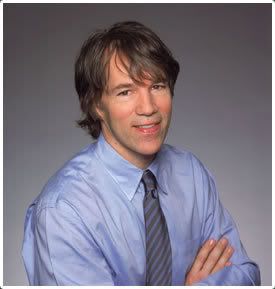 Apparently, this was announced Friday night at the Kings game at the Staples Center, on the 60th anniversary of Howe's first goal. The film will be co-produced by Howard and Karen Baldwin, who last paired with Kelley in the hockey movie "Mystery, Alaska."
The film will center around the 1973-1974 season of the World Hockey Association, when then retired Howe, at the age of 44, came out of retirement to play in the upstart hockey league with his two sons, then aged 18 and 19. Howe ultimately led the underdog Houston Aeros to the AVCO championship and won t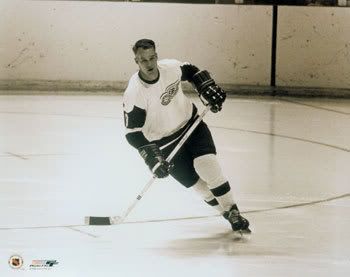 he league MVP.
Howe's is an incredible story, Kelley has a great love of hockey, and Producer Howard Baldwin previously owned and operated the WHA's Hartford Whalers. Together, these ingredients should make for a great film. It will be interesting to learn about the rough and tumble Howe (remember that a "Gordie Howe Hat Trick" refers to a goal, an assist, and a fight). There aren't enough hockey movies, especially GOOD ones, so I'll definitely be looking forward to this one.
The song for today is "Jump" by Van Halen. Now, I've never been much of a Van Halen fan, and to be honest, this is one of the only songs that I like from the period that David Lee Roth sang for them (which for most people, is the only REAL Van Halen). But this song came out in 1984 (off the album 1984), and was a HUGE hit. I distinctly remember someone playing it off a tape every single day for months during gym in the girls locker room, and the way everyone would jump and dance around while it was playing. Despite how anyone my age feels about Van Halen, you will find few people who grew up in the 80s who does not STILL have a copy of 1984 in their collection.